So, i decided to change up my hair regime a bit and add some new products. I didn't really have much protein in my regime so figured i should get some. i did some researched and decided to get the

Aphogee Keratin 2 Minute Reconstructor

and the

Keratin and Green Tea Restructurizer.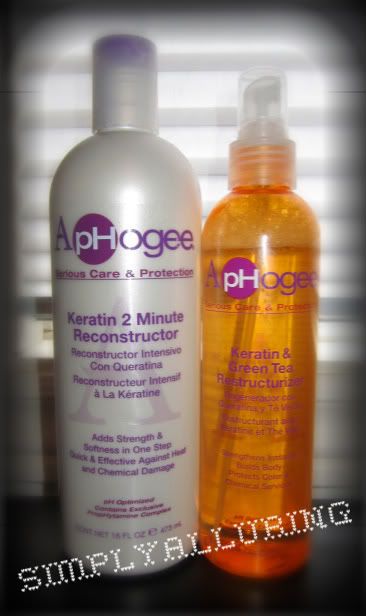 I read a lot of good reviews on these two products. The 2 minute is a wash out conditioner while the keratin and green tea is a leave in.
So far..i dunno =S...i used the 2 minute reconstructor back in January before i got a sew in weave...and then when i took the weave out and washed it, again using now both of these products, i found my hair was

breaking

...

a lot

...and still is! =(! so i have no clue..these are the only things i changed about my regime. b

ut I'm going to continue

to use them and see. since I've only used them 2 or 3 times. if my hair continues to break then i will stop.
I
don't know it if just winter time and my hair is just going through something or what. but my next wash, I'ma not use either of these products and see if the breakage is the same or not.
I don't wanna make any other conclusions on these products...I'm sure there good, just maybe not for me. Ill do an update next month!
till then,
..xo